senseless sweat with celestial soot
LOUDSPKR IS A TEST GROUNDS FOR EXPERIMENTAL MUSIC/NOISE, SOUND, VIDEO, MEDIA ART, AND PERFORMANCE.

> PROMOTING EXPERIMENTATION, COLLABORATION AND PLAY

> EXPLORING THE EPHEMERAL / TEMPORAL MOMENTS OF COMMUNITY AND SHARED EXPERIENCE
> WORKING AT INTERSECTIONS OF CONTEMPORARY ART, MUSIC/SOUND, VIDEO/FILM / EXPLORING CONTEXTS FOR CRITICAL DISCOURSE WITHIN STRATIFIED SOCIAL/CULTURAL DOMAINS
CONTACT: info(at)loudspkr.org

NEWS


UPCOMING

<><><><><><><><><><><><><><><><>
Nønspace
screening at the Urban Nomad Film Festival, Taipei, Taiwan
4/28/2009 @ Taipei Artist Village
full programme
<><><><><><><>

THE END OF SOMETHING..
a moment of reflection
collaboration w/ Volume
www.volumeprojects.com
summer 2009
<><><><><><><>

NEW WEBSITE & REVAMP
<< COMING >>

<><><><><><><>
in the works..
Sound in Context
Perspectives on Sound in the Art milieu
produced by Sonic Arts Network
Sound in Context is a short video documentary exploring sound within the visually dominated art world. Through interviews with a number of art institutions/galleries, artists and curators in the UK, Sound in Context navigates some of the issues of presented by exhibiting sound in the gallery and contemporary art world.

Sound as a medium is time-based and is sensitive to space, perception/experience and environment and has become increasingly intertwined with disciplines of sculpture, architecture, installation, film/video and media art. The ephemeral, invisible nature of sound often assumes it under a secondary role. The social, political and subconscious impact of sound, however, has become a figure of interest in contemporary art practice and discourse. Sound in Context explores the role and future of sound in the contemporary art world, while opening up reflections for sound artists engaging in the art world, and visual artists engaging with sound in their work.

Featuring interviews with: Seth Cluett (artist), Benedict Drew (artist), Barry Esson (director, Arika), Anne Hilde Neset (the Wire), Hans Ulrich Obrist (Serpentine Gallery), David Toop (writer/curator), Richard Whitelaw (SAN).. and others
<><><><><><><>

coming..
Folktales From Many Lands publication / book.

www.folktellers.tk

<><><><><><><>
sum nue linx
CCS Goldsmiths'
Sonic Arts Network / Sound and Music
l'Institut de Recherche et d'Innovation (IRI)

<< PAST >>
+ seth cluett / benedict drew / lee patterson
+ rhodri davies
+ dawn scarfe / mel gough
+ jane dickson / jonathan mchugh / tom mudd
Café OTO
18 - 22 Ashwin Street, Dalston
E8 3DL
April 1st, 2009
£7, 7:30pm
info@loudspkr.org | 075959 17229
www.cafeoto.co.uk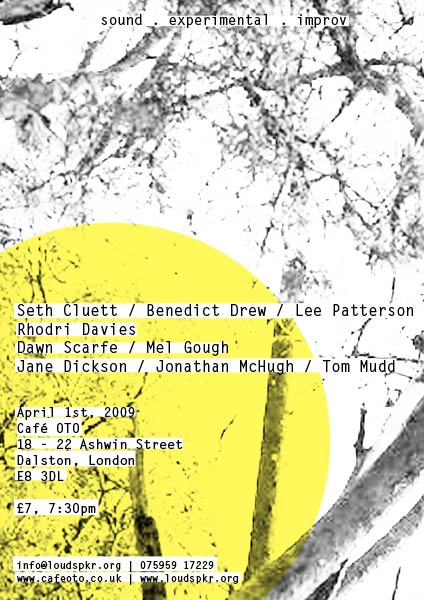 Organized by LOUDSPKR with support from Sonic Arts Network
Launching event in London, LOUDSPKR brings American sound artist Seth Cluett joined by Benedict Drew and Lee Patterson to fill the air (and their tables) with whirring gadgetry and homemade devices. Additionally, Welsh harpist Rhodri Davies will unearth gems from the battery of works he's commissioned to extend the possibilities and the repertoire of the solo harp. Artist and composer Dawn Scarfe will be joined by Mel Gough and a host of small loudspeakers which they will use to make objects sing. Lastly, the recently formed trio of Jane Dickson, Jonathan McHugh, and Tom Mudd, will merge together piano, electronics, and computer gadgets producing systems that are teetering on the brink of collapse... in which we are amplifying.

Seth Cluett (Troy, NY/USA lives in Paris, France) is an artist and composer whose work includes photography, drawing, video, installation, concert work, performance, and theoretical writing. His work focuses on the creative misuse and repurposing of technologies, acoustic phenomena, and perceptual attention. He has exhibited and presented at galleries, museums, festivals, and performance venues across North America, Europe, and Asia. His work is documented on Errant Bodies Press, Sedimental, Crank Satori, BoxMedia, Stasisfield, and Wavelet
Records.
http://www.onelonelypixel.org
Benedict Drew is an Artist who works in performance, sound and video. Current projects include a collaboration with artist Emma Hart and the trio Portable with Rhodri Davies and Louisa Martin. Benedict has also worked with Otomo Yoshihide and Sachiko M and with various improvisers including Tom Chant [as duo Suscete] Angharad Davies, Lee Patterson, Steve Beresford, Seymour Wright, Rhodri Davies, Mark Wastell and Matt Davis. He has travelled widely performing. Benedict has also composed the soundtracks for five films by Emily Richardson. A CD of these soundtracks was released in September 2004. Radio work includes producing and presenting Instant Radio Meeting and the Kchunk Radio series Resonance FM.
http://www.benedictdrew.com
Lee Patterson
Encompassing various forms, including improvised music, field recording, film soundtrack, sound installation and radio broadcast, Lee Pattersons' work is characterised by the revelation of subliminal or barely audible sounds. Utilising commonplace materials and invented methodologies, his practice aims toward a new understanding of his surroundings through altering perceptions of everyday reality. His unorthodox and idiosyncratic approaches to generating sound have led to collaborations with a host of international artists and experimental musicians.
http://www.myspace.com/therealleepatterson
Rhodri Davies
Davies works in the field of new, experimental and improvised music. He explores noise, live electronics, silence, texture and abstract sound. He has been based in London since 1995 and has performed in the US, Japan, Canada and Europe.
http://www.rhodridavies.com
Dawn Scarfe and Mel Gough
Dawn's work investigates the interplay between sound and space. She creates installations, compositions and performances which encourage audiences to consider details in the process of listening. Her most recent work explores how resonant sound imbues materials and environments with animate qualities. She has performed and exhibited her work throughout the UK and participated in festivals in Scandinavia and Asia. Mel Gough is an experimental composer and performer, with a special interest in ratio tuning systems and live electronics. She has performed her work in music venues, galleries and festivals in London and Europe.
http://www.dawnscarfe.co.uk

Jane Dickson, Jonathan McHugh and Tom Mudd is a semi-improvisational trio formed at the Electronic Music Studios at Goldsmiths' University of London in October 2008.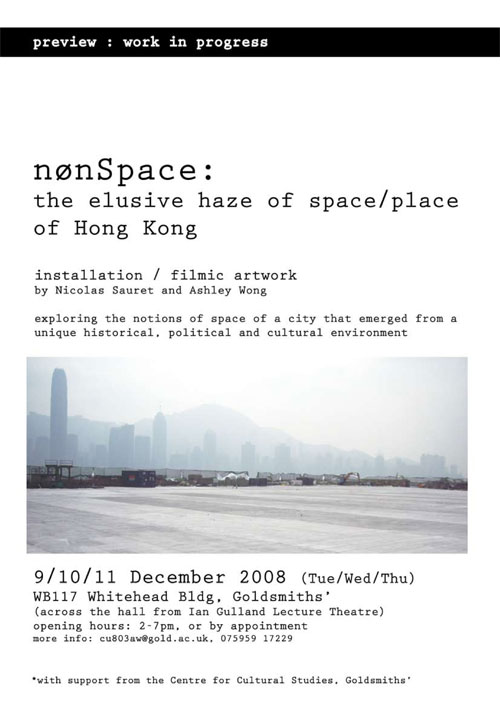 NønSpace: The elusive haze of space/place of Hong Kong
A filmic artwork and installation by Nicolas Sauret and Ashley Wong
9 - 11th December 2008
WB117 Whitehead Bldg, Goldsmiths' University of London
(across the hall from Ian Gulland Lecture Theatre)
opening hours: 2-7pm (or by appointment)
more info: cu803aw@gold.ac.uk, 075959 17229
"The apparently permanent can be temporary, while the temporary could be very permanent." - Abbas
NønSpace is a work that attempts to probe at the often puzzling and elusive space of Hong Kong. Through its unique history, geography and politics, Hong Kong has sprouted from a small Chinese fishing village to a globalized financial city. From British influence of Western capitalism to a return to a long lost Chinese reality, Hong Kong has formed into a place of in-betweenness. Through interwoven voice interviews with artists, academics, architects, NønSpace approaches notions of space to reveal aspects of a city and culture that is difficult (and perhaps impossible) to underpin.
Topics of density, public/private space, colonialism/post-colonialism, identity, society, urban development, and government policy quickly emerge. Through collected materials, photographs and field-recordings from a two and three year stint in Hong Kong, the creators piece back through memory in a desire to understand and in a dialogue with the city and self.
NønSpace is hazy in content and in form. The fluid construction of photographic stills and voice, speak around a city, but never at it. It is an approach to space that can be used to navigate any city and environment to explore what is behind the construction of a space and place.
Featuring interviews with:
Linda LAI (professor, City University)
Andrew LAM, (director Museum of Site)
Kit LAM (sociologist, Chinese University)
Warren LEUNG (independent artist)
Map Office (Laurent Gutierrez & Valérie Portefaix, artists/academics)
Alvin YIP (architect, Poly University)
<><><><><><><><><><><><><><><><>
ARCHIVE
2008
DEC 7/8/9: NØNSPACE: preview exhibition
JULY 26/27: FOLKTALES FROM MANY LAND : exhibition
MAY 30: SHANSHUI RECORDS CHINA TOUR
APR 25: ANIMA FEMININE UNDERGROUND
APR 13: FOLKTALES FROM MANY LANDS : journey
JAN 25: RUNAR MAGNUSSON & DICKSON DEE
2007

FEB :
SERIPOP
DIY OR DIE EXHIBITION @ KAPOK
APRIORIPROJECTI
2006
JUILLET
06
INDIANSUMMER
VIDEO/NOISE/ARTT


MAI06

LUCKYDRAGONS

WINDUPBIRD

WYRDVISIONS

MAGALIBABIN



ABOUT
Started in 2006, LOUDSPKR is an independent project that seeks to explore platforms for time-based art particularily within experimental music/noise, sound, video, media art and live performance. Experimenting with one-off events, LOUDSPKR encourages collaboration, shared experience and play. LOUDSPKR also develops a range of projects and platforms for art and critical discourses that touch on aspects of community and social life.
More recent projects include Folktales From Many Lands (a journey and exhibition project) and ONSPACE (sound/video installation) and Sound in Context (video documentary produced w/ Sonic Arts Network). LOUDSPKR is a mobile and shifting platform and has worked with a wide range of artists and collaborators from CAN, US, CN, HK, TW, AU, GER, AT, FR, JP and produced event/projects in Canada, and Hong Kong. LOUDSPKR is currently based in London UK.

Elle Est ChiNOISE is a DJ (non-)performance and founder of LOUDSPKR available to play any resonating frequency from acoustic lullabies to monumental drones. For event inquiries contact: info@loudspkr.org