PAST
(2008-09)
[images coming soon..]
[under construction]
<><><><><><><><>
+ seth cluett / benedict drew / lee patterson
+ rhodri davies
+ dawn scarfe / mel gough
+ jane dickson / jonathan mchugh / tom mudd
Café OTO
18 - 22 Ashwin Street, Dalston
E8 3DL
April 1st, 2009
£7, 7:30pm
info@loudspkr.org | 075959 17229
www.cafeoto.co.uk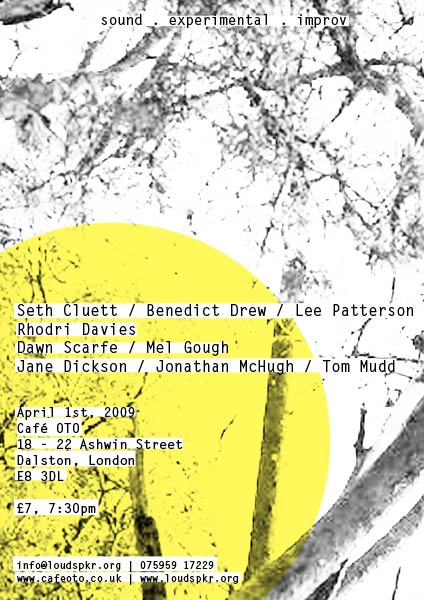 Organized by LOUDSPKR with support from Sonic Arts Network
Launching event in London, LOUDSPKR brings American sound artist Seth Cluett joined by Benedict Drew and Lee Patterson to fill the air (and their tables) with whirring gadgetry and homemade devices. Additionally, Welsh harpist Rhodri Davies will unearth gems from the battery of works he's commissioned to extend the possibilities and the repertoire of the solo harp. Artist and composer Dawn Scarfe will be joined by Mel Gough and a host of small loudspeakers which they will use to make objects sing. Lastly, the recently formed trio of Jane Dickson, Jonathan McHugh, and Tom Mudd, will merge together piano, electronics, and computer gadgets producing systems that are teetering on the brink of collapse... in which we are amplifying.

Seth Cluett (Troy, NY/USA lives in Paris, France) is an artist and composer whose work includes photography, drawing, video, installation, concert work, performance, and theoretical writing. His work focuses on the creative misuse and repurposing of technologies, acoustic phenomena, and perceptual attention. He has exhibited and presented at galleries, museums, festivals, and performance venues across North America, Europe, and Asia. His work is documented on Errant Bodies Press, Sedimental, Crank Satori, BoxMedia, Stasisfield, and Wavelet
Records.
http://www.onelonelypixel.org
Benedict Drew is an Artist who works in performance, sound and video. Current projects include a collaboration with artist Emma Hart and the trio Portable with Rhodri Davies and Louisa Martin. Benedict has also worked with Otomo Yoshihide and Sachiko M and with various improvisers including Tom Chant [as duo Suscete] Angharad Davies, Lee Patterson, Steve Beresford, Seymour Wright, Rhodri Davies, Mark Wastell and Matt Davis. He has travelled widely performing. Benedict has also composed the soundtracks for five films by Emily Richardson. A CD of these soundtracks was released in September 2004. Radio work includes producing and presenting Instant Radio Meeting and the Kchunk Radio series Resonance FM.
http://www.benedictdrew.com
Lee Patterson
Encompassing various forms, including improvised music, field recording, film soundtrack, sound installation and radio broadcast, Lee Pattersons' work is characterised by the revelation of subliminal or barely audible sounds. Utilising commonplace materials and invented methodologies, his practice aims toward a new understanding of his surroundings through altering perceptions of everyday reality. His unorthodox and idiosyncratic approaches to generating sound have led to collaborations with a host of international artists and experimental musicians.
http://www.myspace.com/therealleepatterson
Rhodri Davies
Davies works in the field of new, experimental and improvised music. He explores noise, live electronics, silence, texture and abstract sound. He has been based in London since 1995 and has performed in the US, Japan, Canada and Europe.
http://www.rhodridavies.com
Dawn Scarfe and Mel Gough
Dawn's work investigates the interplay between sound and space. She creates installations, compositions and performances which encourage audiences to consider details in the process of listening. Her most recent work explores how resonant sound imbues materials and environments with animate qualities. She has performed and exhibited her work throughout the UK and participated in festivals in Scandinavia and Asia. Mel Gough is an experimental composer and performer, with a special interest in ratio tuning systems and live electronics. She has performed her work in music venues, galleries and festivals in London and Europe.
http://www.dawnscarfe.co.uk

Jane Dickson, Jonathan McHugh and Tom Mudd is a semi-improvisational trio formed at the Electronic Music Studios at Goldsmiths' University of London in October 2008.
<><><><><><><><><><>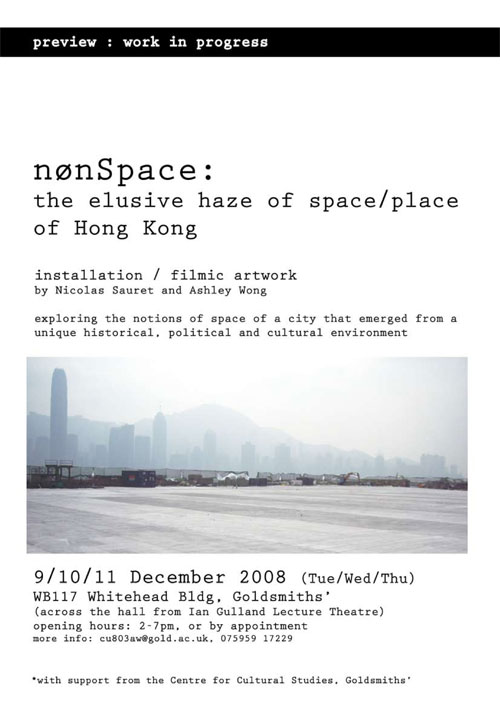 NønSpace: The elusive haze of space/place of Hong Kong
A filmic artwork and installation by Nicolas Sauret and Ashley Wong
9 - 11th December 2008
WB117 Whitehead Bldg, Goldsmiths' University of London
(across the hall from Ian Gulland Lecture Theatre)
opening hours: 2-7pm (or by appointment)
more info: cu803aw@gold.ac.uk, 075959 17229
"The apparently permanent can be temporary, while the temporary could be very permanent." - Abbas
NønSpace is a work that attempts to probe at the often puzzling and elusive space of Hong Kong. Through its unique history, geography and politics, Hong Kong has sprouted from a small Chinese fishing village to a globalized financial city. From British influence of Western capitalism to a return to a long lost Chinese reality, Hong Kong has formed into a place of in-betweenness. Through interwoven voice interviews with artists, academics, architects, NønSpace approaches notions of space to reveal aspects of a city and culture that is difficult (and perhaps impossible) to underpin.
Topics of density, public/private space, colonialism/post-colonialism, identity, society, urban development, and government policy quickly emerge. Through collected materials, photographs and field-recordings from a two and three year stint in Hong Kong, the creators piece back through memory in a desire to understand and in a dialogue with the city and self.
NønSpace is hazy in content and in form. The fluid construction of photographic stills and voice, speak around a city, but never at it. It is an approach to space that can be used to navigate any city and environment to explore what is behind the construction of a space and place.
Featuring interviews with:
Linda LAI (professor, City University)
Andrew LAM, (director Museum of Site)
Kit LAM (sociologist, Chinese University)
Warren LEUNG (independent artist)
Map Office (Laurent Gutierrez & Valérie Portefaix, artists/academics)
Alvin YIP (architect, Poly University)
<><><><><><><><>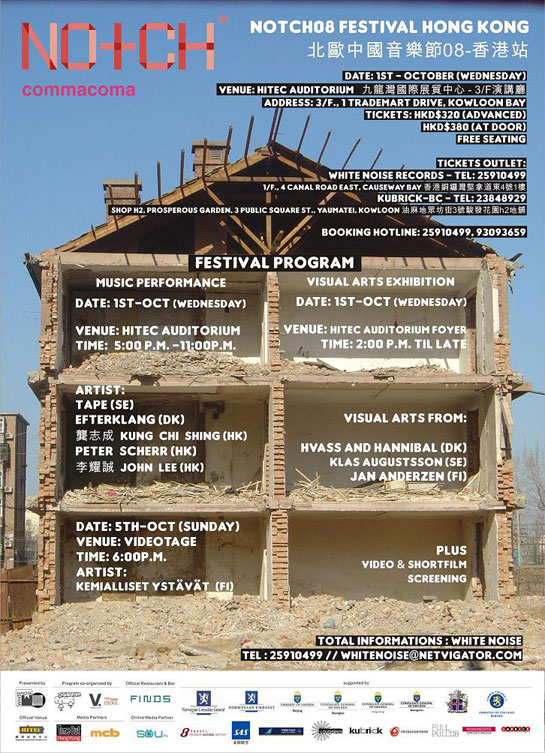 NOTCH Festival 主旨是將北歐聲音與影像文化,與中國藝術圈子融合,他們前衛與未來派的獨特表演方式,為觀眾帶來全新體驗。
NOTCH於06和07連續兩年在北京、上海和廣州三地舉行,反應熱烈。而今年10月第一個星期,將會舉行NOTCH08,除原有三個國內城市外,香港亦會成為其中一站。
今年NOTCH08主題是"Comma Coma",是沒有停頓的Coma,於過去的一年,我們經歷過疫症、經濟、物價等問題,應該如何面對?很多人都沒有答案,而NOTCH08正是借助北歐與本地音樂人與藝術家,提供一個展望未來的視野。
NOTCH08 帶來了6個北歐與香港單位,各自從哲學體系中表現出獨特個性。音樂上橫跨Free Jazz、Improvisation、Electro-acoustic、Avant Garde、Psychedelic Folk、Indie-
Pop 等不同風格,再配以視覺表演輔助,當中參與單位全部是從北歐與香港圈中嚴選出來,形成匯合多元化文化藝術的經歷。


NOTCH Festival fuses cutting edge Nordic audiovisual culture with China's emerging local scene, pushing the audience to rethink their contemporary and future role via the theme of "contemporizing the future" and the practice of "de-futurization".
Following the successful debut and follow-up efforts in 2006 and 2007 in Beijing, Shanghai and Guangzhou, NOTCH08 will return to the 3 cities during the 1st week of October in 2008. In addition, Hong Kong will join as the 4th city to participate in NOTCH08.
The theme for this year's NOTCH08 is "Comma Coma", that is "non-stop coma," the overwhelming state we are facing in a year of natural disasters, stock market crisis and price increases of oil and food. How will we cope with it? Many people have no idea. NOTCH08 aims to present a vision toward the future via participating Nordic and local artists' artistic expression that we should start reducing, not consuming more resources to lessen our burden on the fragile earth. It also reflects NOTCH's cultural meaning: notch , or grooveas primitive human's method of recording. Every single notch has its own unique social value.
NOTCH08 selects 6 Nordic and Hong Kong artists with diverse identities as "evangelists" of NOTCH and Hong Kong philosophy. The music spans across genres of Free Jazz, Improvisation, Electro-acoustic, Psychedelic Folk, Sound Art, Avant Garde Rock, Indie Pop, along with accompanying visual performances. The artists' identities include composer, player, sound artist, sound engineer, DJ, producer, label master, curator, graphic designer, new media artist, photographer, illustrator, VJ, space designer, poet, writer and film director. Artists are chosen from the current Nordic and local cultural scene , stimulating a meeting of multi-cultural experiences.


Wednesday, October 1, 2008 (National Day)
Time: 14:00 – 21:00 (Nordic visual arts exhibition / video and film screening)
17:00 – 23:00 (music concert)
Location: HITEC – Auditorium (3/F., 1 Trademart Drive, Kowloon Bay, Hong Kong)
Ticket Price: HK$320 (Advance) / HK$380 (At Door)
(Advance tickets available at the outlets below from Tuesday 16-Sep)
Ticket Outlet:
1) White Noise Records (1/F, 4 Canal Road East, Causeway Bay, Hong Kong 香港銅鑼灣堅拿道東4號1樓) Tel: 25910499
2) Kubrick-bc (Shop H2, Prosperous Garden, 3 Public Square St., Yaumatei, Kowloon 九龍油麻地眾坊街3號駿發花園h2地舖) Tel: 23848929

Information, Ticketing Reservations or Programme Enquiries:
White Noise Records
Tel : +852 25910499
Email : whitenoise@netvigator.com

<><><><><><><><><><><><>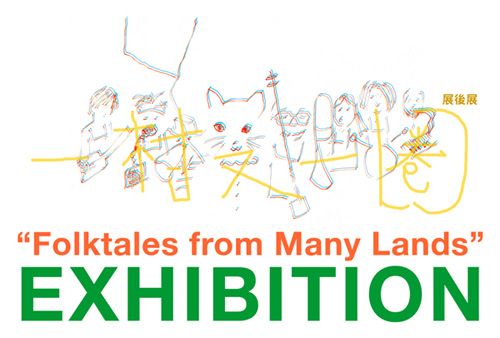 26 & 27 JULY 2008, Sat/Sun
KLUUBB

www.folktellers.tk

<><><><><><><><><>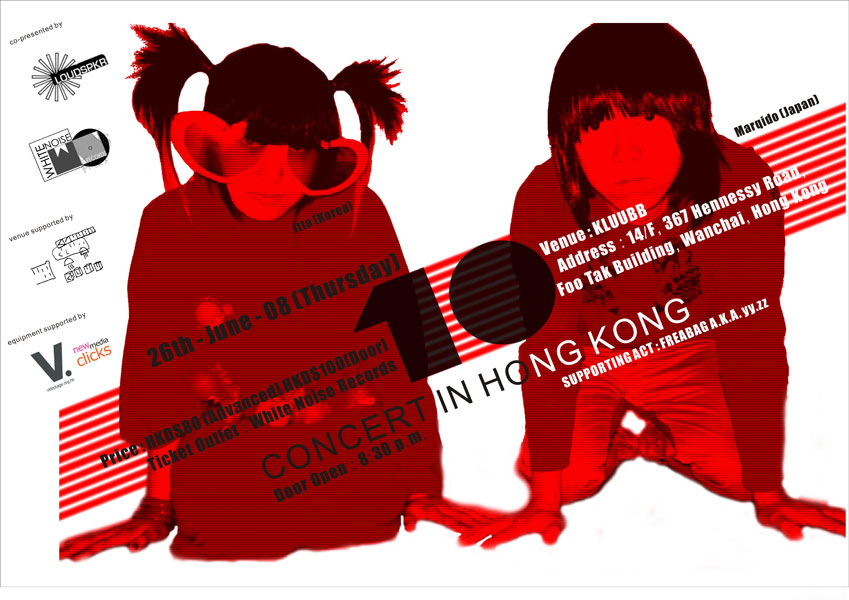 10 (Japan/Korea) Live in Hong Kong
w/ Freabag (HK) A.K.A. yy.zz
26 June 2008 (Thurs) @ KLUUBB
10 Bio 
10 was created on October 10th, 2005 by Marqido from Japan who is a laptop noise artist, and itta from Korea who plays realvoice, toys, melodica, accordion and miniature traditional instruments of some nations. Both members were already active as solo artists before forming this duo, and now, too. In 2006 they released the album 'LIVE' and 'UFO E.P' in Japan. 
10由日本筆記本噪音藝術家馬球多、韓國人聲/玩具/口風琴/手風琴和各國民族樂器演奏者伊塔 創立於2005年10月10日。 在組建這個二重奏之前,兩位成員都作為獨奏藝人表演,現在仍然如此。 2006年,在亞洲巡演(日本、中國、韓國、馬來西亞、新加坡和泰國)之後, 他們在日本發表了專輯《現場》和《UFO EP》。 2007年,專輯《UFO》發表。
10 - http://www.myspace.com/weare10
Freabag - http://www.myspace.com/yyzzmono
Address : KLUUBB, 14/F, 367 Hennessy Road, Foo Tak Building, Wanchai, Hong Kong
香港灣仔軒尼詩道367號富德樓14樓 t. +852 8171 7211
Price : HKD$80 [Advanced] HKD$100[Door]
售票地點 / Ticket Outlet : White Noise Records
Door Open : 8:30 p.m.
co-presented by Loudspkr and White Noise
venue suppoted by Kluubb
equipment supported by Videotage
<><><><><><><><><><><>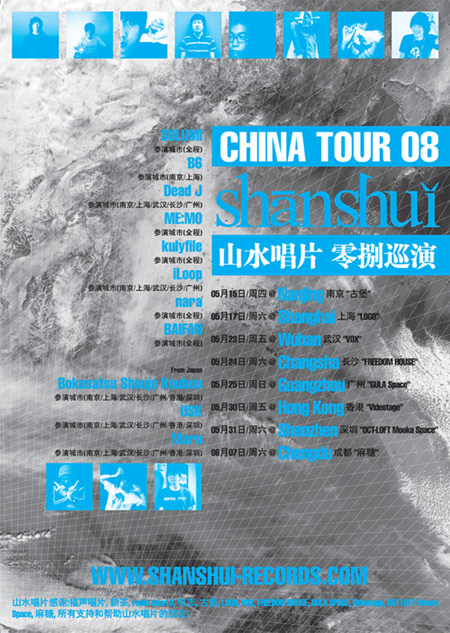 Shanshui records was founded in December 2002 by SUN dawei. This label is just a simple gathering place of electronic music, without any specific concept or music taste for itself. The first release "V.A landscape" gethered many electronic artists from China and overseas. It has generated a new electronic music space in China.
In the following year, he released two compilation albums "Dine Together with People" and "Green Pepper & Cacti". In these two albums, yinyang has become the main idea to express movement and stillness. 2005 is a remarkable year for him, in which he released his first album "sulumi - visit < partial works < remix", also produced a solo album for foreigh artist COVOX. In the same year campilation album "V.A landscape 2" was released, which was the second compilation album of Sun Dawei's indie label "Landscape". "V.A landscape 2" reached every corner of the world and was complimented by the music magazine WIRE. With the harmonious musical style, this album stressed a lot in melody and again, was a perfect combination of movement and stillness.
Shanshui (山水唱片)建立在2002年12月。由SUN dawei(孙大威)一个人开始设想。厂牌本身没有具体的概念和音乐口味,它仅仅是一个简单的电子音乐聚集地。2003年发行了第一张唱片"V.A landscape"众多的中国和海外的电子艺术家加入,在中国形成了新的电子音乐空间。随后的一年里又发行了"dine together with 7 people" 和"green pepper & cacti"两张合辑,以阴阳为主线来表现动和静,2005年是里程碑的一年,不但出版了第一张专辑"sulumi - visit < partial works < remix",还有国外艺术家COVOX的个人专辑,同时还发行了"V.A landscape 2"。 landscape的第二次集结,扩展到世界每一个角落,唱片深受WIRE的赞赏,从概念上更突出了风格的统一。并且还是以动静为主。还是以音乐为灵魂。
2007 年,新的山水时代已经来临。6月发行COM.A的最近专辑"Coming Of Age",这也是厂牌新开始的第一次出击。2007年底出版Me:Mo的新专辑,2008年是"山水唱片"成立五年!从5月中旬开始,旗下所有艺人进行全 国首次巡演!一群志同道合朋友们的同乐会,游山玩水,切磋技艺。融合了平和的心境和数字革命,愈演愈烈,加速扩张。
Artists / 艺人
SULUMI (China)
Bokusatsu Shoujo Koubou (Japan)
USK (Japan)
ME:MO (China)
Maru (Japan)
kulyfile (China)
nara (China)
BAIFAN (China)
日期 / Date : 30-May (Friday)
時間 / Time : 8:00p.m.
地點 / Venue : 錄影太奇 Videotage
九龍土瓜灣馬頭角道63號牛棚藝術村13號
No.13, Cattle Depot Artist Village,
63 Ma Tau Kok Road, To Kwa Wan
售票地點 / Ticket Outlet : White Noise Records
票價 / Price : $160 [advanced] / $ 200 [door]
Transportation information 交通資料
可乘搭以下巴士抵達牛棚藝術村
There are buses going to Cattle Depot Artist Village
85A, 85B, 85C, 85X, 106, 11B, 11K, 12A,
21, 3B, 5C, 5D, 61X, 83P, 101, 107, 111, 116, 891等等
或於旺角地鐵站快富街出口乘搭28M綠色專線小巴
Information : White Noise
25910499 / whitenoise@netvigator.com
<><><><><><><><><><>
white noise and videotage co-presents

Kapital Band 1 "Playing by Numbers Tour" concert in Hong Kong
Martin Brandlmayr (part of Radian, Trapist, Autistic Daughters) - Drums
Nicholas Bussmann (part of Alles 3) - Electronics

plus very special guest
Skybox (Dickson Dee and ZenLu)

Date: 11 April, 2008 (Friday)
Time: 8:00p.m.
Venue:Videotage
Price: HKD$130 DOOR ONLY

organized by white noise
supported by Goethe-Institut Hong Kong, Videotage, Mosz

Kapital Band 1 www.myspace.com/kapitalband1
Kapital Band 1 is a project by Martin Brandlmayr and Nicholas Bussmann. The musicians met 7 years ago playing a number of duo concerts under different names: "the golden boys", "hair" amongst others. While the instant approach was to make an abstract derivate of funk music it happened to be something quite unique – but not funk. By using random algorithms the drums and the electronics interact in way that forces the musicians to play with an attention to the moment which you only know from improvised music, while keeping the skeleton of a pop song ! In 2004 "2CD" was released, the bands debut album on Mosz–Records/Vienna. KAPITAL BAND 1 received a honorable mention at PRIX ARS ELETRONICA for their debut album. Their music has since developed far beyond its starting point and infact there was a second album already in the works and near completion, but the musicians decided to trash it altogether and go a step further. "Playing by Numbers" is the result – the third album.

Martin Brandlmayr
lives and works in vienna. Bands and projects: radian, Trapist, Polwechsel, Kapital band 1, Autistic daughters Collaborations with Christian Fennesz, Franz Hautzinger, Burkhard Beins, David Sylvian, John Tilbury, Tony Buck, John Butcher, Peter Brandlmayr, Werner Dafeldecker, Otomo Yoshihide, Dieb 13, Axel Dörner, Gina Hell, Christof Kurzmann, John Mcentire, Toshimaru Nakamura, Andrea Neumann, Sachiko M, Stefan Schneider, Burkhard Stangl,........

Nicholas Bussmann
Musician and Composer, lives and works in Berlin. Began as a cello player. As many others he put his instrument aside and went for the new possibilities the computer and electronic devices offered. These days he is very much focusing on performing music rather then recording and is working on conception compositions and games. Repetitive structures and patterns of daily live are often reflected in his work. He's performing as Kapital Band 1 with Martin Brandlmayr and Alles 3 with Toshimaru Nakamua. He as work for radio, theater and film. Nicholas Bussmann works also as curator for events like the love song competition "Grand Prix d'Amour" and "meine Zeit" at Haus der Kulturen der Welt.

<><><><><><><><><><><><><><><><>




Anima: The Feminine Underground
10 (Japan / Korea)
ioioi (Italy)
Vavabond (China)
Magdalen Wong (Hong Kong)
+ support guest DJ by Elle Est ChiNOISE
Date: Friday, April 25, 2008
Time: 8:00pm - 11:00pm
Location: Videotage
Unit 13, Cattle Depot Artist Village, 63 Ma Tau Kok Road, To Kwa Wan
Doors open 7:30pm, HKD$ 120
<><><><><><><><>
Runar Magnusson & Dickson Dee Live in Hong Kong

DATE : FRIDAY 25TH JAN 2008
TIME : 8:00P.M.
VENUE : VIDEOTAGE
ADDRESS : NO.13, CATTLE DEPOT ARTIST VILLAGE,
63 MA TAU KOK ROAD, TO KWA WAN, KOWLOON
HONG KONG
HKD$ 70 DOOR ONLY
Enquiries : 25910499, 25731869 OR
WHITENOISE@NETVIGATOR.COM
<><><><><><><><><><><>
CATARACT
Monthly Night of Neu Noise
update JAN 08 : Due to the unfortunate lack of free space & venues in HK, Cataract has come to an end.
This however, has spawn a greater need to explore ideas through ON SPACE - a film project.
<><><><><><><><><><><><><><><><>