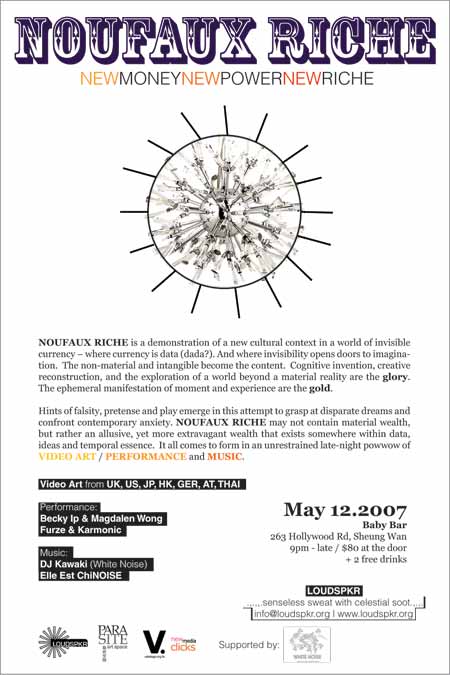 * tix available @ Para/Site, White Noise Records & Videotage.
VIDEOS : PREVIEW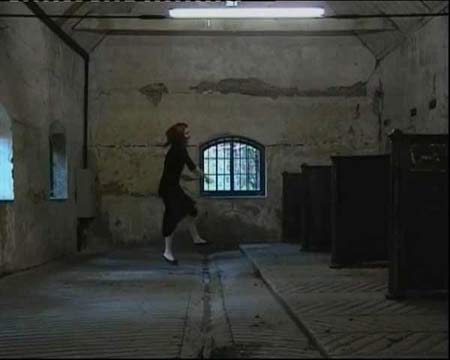 Etchings, 5'23'', 2003
Dawn Scarfe, UK
www.dawnscarfe.co.uk
Etchings was developed during the artist's residency* in The Old Dairy, a listed building in Headington Park, Oxford, UK, 2003. Dawn found the Dairy to be a very evocative space, with interesting acoustic properties. She observed how sounds from outside reverberated through the space, and how different patterns of light filtered through the windows over time. Interested in uncovering more of the sonic character of the space, Dawn began a series of actions to 'sound' the Dairy as if it were an instrument, using found materials such as sticks and chains to scrape along the walls, drop on to the floor, and to play the air. She noticed how it was possible to get a wide range of tones from swinging a stick at different speeds, and the Etchings video documents the artist's attempts to play scales with a stick in the space. The footage is played in slow motion to highlight the reverberant effects of the artist's actions, and to emphasise the physicality of the resulting impressions made in the air.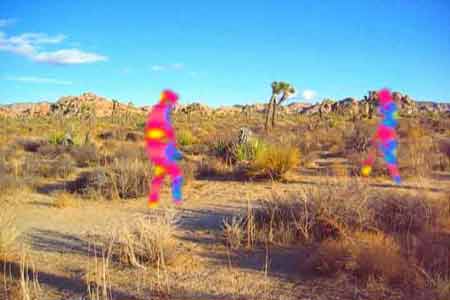 Desert Walker, 2'12'', 2006 + Various
Luke Fischbeck + Sarah Ra Ra, US
www.hawksandsparrows.org
www.glaciersofnice.com
Luke and Sarah live in a very small freestanding house in Los Angeles. They are attempting to grow as much of the food they eat as possible. They make music together as "lucky dragons" or as "glaciers" and also large-scale collaborative drawings and prints as "sumi ink club". When asked to describe their agenda in art making, they say equality, balance, harmony, beauty, plenty, and joy. but that's not very specific. Specifically, everything they make addresses in some way acts of giving and owning, group identity, speaking--especially using one's own voice in magic ways, and beyond that--spirits and ghosts and mirrors and twins and multiples and uncanny dancing.

By whatever turns of luck or coincidence they have exhibited and performed at such venues as the Centre Pompidou (Paris), the Kitchen (New York), PS1 (New York), Schirn Kunsthalle (Frankfurt), David Kordansky Gallery (Los Angeles), Machine Project (Los Angeles), Cinders Gallery (New York), Exit Art (New York), the Tank (New York), ZKM (Karlsruhe), Portland Institute for Contemporary Art, the Institute for Contemporary Art Philadelphia, and the Museum of Contemporary Art San Diego.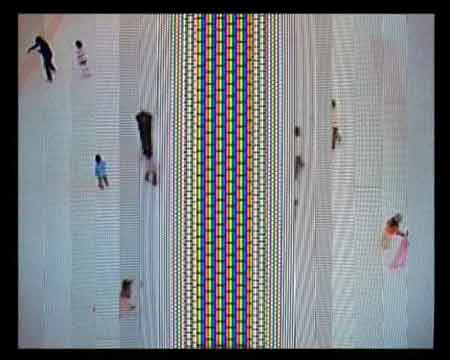 Sliding Whites, 8'38'', 2003
Eric Siu Chi-man,Hong Kong
'White as color is just a fluid concept. White of ice, white of paper, white of milk, white of cloud… white of air, liquid and solid, the whites are all different and each of them owns unique property. The fusion of Materials and Eyes reveals the truth of colors. Sliding Whites --- an experiment on the TV cells, the representation of color and the originality of digital image.'
The Polarbear Split, 6'08'', 2006
Pencil on paper, 70 x 600 cms
Martin Skauen, Norway
www.martinskauen.com
This 6 meter long drawing is based on the civilization of the New World. It is a charged map of humanity at its most unhinged, dealing irreverently with the subject of fanaticism and how it manifests itself in religion, sex and youth culture. The subject matter is politically charged, but Skauen manages to avoid self-righteousness and inject humour into what is otherwise a morally desolate portrait of civilization. Skauen has filmed the drawing, which he refers to as a 'script', and specifically composed music with his band Det Svenska Folket, to accompany the film. The camera sweeps over and settles on Skauens' detailed depictions of manic people and hybrid creatures, pulling the viewer into an, often, uncomfortable encounter with the darker sides of humanity. The drama, pathos and detail of the drawing are exaggerated by the motion and focus of the camera and the charismatic soundtrack. web: www.martinskauen.com
The Fox Hunt, 6'58", 2006
Discriminating Gentlemen's Club, Canada
www.dgc-cga.org

Suitwatcher's Anonymous, 6'34'', 2003
Erik Schmidt, Germany

Black or White, 1'46'', 2004
Wuttin Chansataboot, Thailand
Deleted Scenes, 9'44" 2002
Alex Pensato, Canada

Membrane, 14'18", 2006
Zbigniew Karkowski + Atsuko Nojiri, Japan

As They Pass, 6'45'', 2006
Brigitta Bödenauer, Austria


On Noufaux Riche - Review by Jeff Leung, independent curator
published East Touch Magazine 28.05