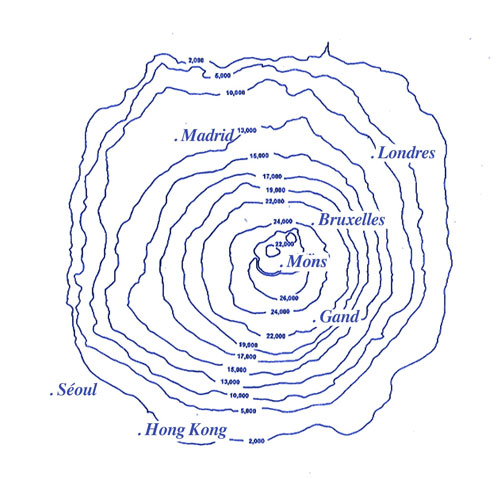 Sound Localities
Locality: a situated place; a fact or condition of a particular position in space
Sound Localities is a project that explores sound in the city through field recordings and exchanges from artists in 7 cities in the local, regional and international space around Mons, Belgium. From Ghent, Brussels, London, Madrid, Hong Kong and Seoul, the project seeks to produce a dialogue amongst disparate places and individuals through their localised experiences to explore possibilities of imagining a wider global space.

The process: Individuals from selected art organisations working with sound were interviewed about their work with sound and their relationship as an cultural organisation in their city. The organisations were asked to select artists working with sound in the city to contribute field recordings to share something about the place. The sounds were contributed to an archive that were collected and shared online with all other participants in the project. All the sounds and interviews can be heard / viewed online at:

http://soundlocalities.tumblr.com
The participating artists were then invited back to create a mix from the collection of sounds from the  cities. The result is a compilation of their mixes – reflecting a crossing of cities and experiences, and perspectives on the World that are reinterpreted and then shared back to each other. The compilation is a the result of a project called Resonant Cities (2010) that connects individuals in different spaces and times in a complex and globalising space of contemporary urban existence. 
The compilation includes mixes by: Julien Poidevin (FR), Will Montgomery (UK), Jiyeon Kim (KR),Sébastien Biset (BE), Edwin Lo (HK), Pauwel De Buck (BE), Yiorgis Sakellariou (GR), Sinyu Tsang (HK), and Martin Clarke (UK). 
The full compilation can be downloaded online for free here:
 Sound_Localities Compilation 2011


Sound Localities is a project initiated by Ashley Wong an artist, curator and researcher based in London, UK during a 3-month residency at Transcultures in Mons, Begium supported by Pépinières européennes pour jeune artistes and partners.